History of Holy Cross Church, Newton Ferrers
People have worshipped on the site of Holy Cross for over 900 years.
A church on this site is first mentioned on the Saxon Geld Roll of 1084, when 'St Mary of Newton' was one of those lands held free from geld (tax). At that time the church is likely to have been a simple timber building, probably occupying what is now the west end.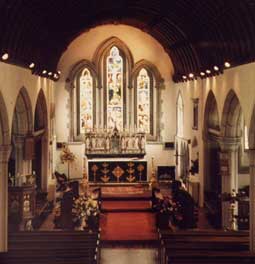 The church was rebuilt by the Ferrers family early in the 12th century and around 1260 the family built a new church, naming it Holy Cross. . It was less than half the size of the present building and in 1342 was enlarged by the then rector, Henry de Ferrers. (Henry also extended the parsonage – Parsonage Farm – probably the oldest house in the village). Further extensive alterations took place in 1460 creating the church we can recognise today.  During 19th century restoration work, foundations of a Norman church building were discovered. The piscine in the sanctuary and the sedilia in the chancel are in the Early English style of the 14th century.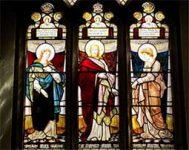 In 1460 the north and south aisles were added, as well as the tower which is topped by four 14 foot high granite pinnacles. A rood screen was erected in 1520 but removed during the reformation. In 1886 major restoration was completed to plans drawn by Architect, G Fellowes Prynne, including raised, reslated roof, enlarged porch, tiled flooring and hot air heating. The church contains many fine stained glass windows and an 1840s pipe organ built by Deane of Taunton.
There was continual squabbling among the descendants of the Ferrers over who was entitled to appoint the rector of Holy Cross until finally the right was sold to the Yonges of Puslinch in 1729. From 1752 until 1940 the rectors were nearly all members of the Yonge family. 
The Yonges built the first Newton school in 1837, on church land close to the site of the present school.