History of St Bartholomew, Yealmpton
The parish church is dedicated to St Bartholomew and was designed by William Butterfield.
It dates from 1850 when, due to their poor condition, the nave and the chancel were completely rebuilt at a cost of £7000 which was largely borne by the Bastard family.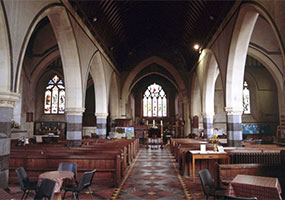 The ancient monuments from the mediaeval church were replaced in the new church when it was rebuilt.
The tower, which contains 6 bells, was built in 1915 at a cost of £2000, replacing the tower of the mediaeval church.
The most recent renovation took place in 1990 when the roof was once again replaced at a cost of £100,000, two thirds of which was met by English Heritage.
The font is Norman and the monuments (moved here from the old church) include a brass to Sir John Crocker (1508), one to Mary Coppelston (died 1630).
The south or Kitley Transept contains monuments and windows to the memory of the Bastard family.
The McCready Window (North Transept) is to the memory of Lieutenant Ronald McCready, killed in action in Tunisia in 1943.