History of St Mary's Church, Brixton
Brixton was, anciently, in the Hundred of Plympton. In 1086, the year of Domesday, nearly the entire Hundred, including Brixton, was under the parochial charge of the priests of St. Mary & St. Paul at Plympton. This preconquest Saxon Chapel and College had a Dean or Provost and other priests and was a Royal foundation.
It is likely that in these remote times, Mass would have been said in the village of Brixton around a granite cross, (such as those at Elburton and Plympton St. Maurice), or, possibly, centered on the domestic chapel of the Norman family of de Britrickstone, from whom the village derives its name.
In 1121 Plympton ceased to be a college and William, Bishop of Exeter, established an Augustinian Priory in its stead. The Priory was the Mother Church of Brixton, and the spiritual needs of the village the responsibility of the Prior, and through him, his visiting priests. As a dependent chapelry Brixton probably, then, justified a small building on the site of our present Church.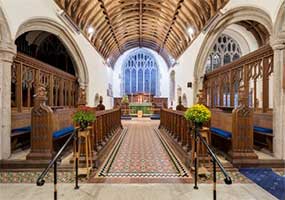 There seems good reason to believe that the Chancel contains the remains of this earlier Church. St. Mary's as it now exists, however, dates from the second half of the 15th century. It is perpendicular in style and typical of many similar West Country churches which were rebuilt or enlarged about that time. It is of interest that Brixton was not advanced to the full position of a Parochial Church, with burial rights, until 18th April 1477. Before this the villagers were obliged to carry their dead to Plympton for burial.
It is sad that dilapidations and subsequent restorations in 1887 and 1894 have destroyed for all time many early features of great beauty and interest, including 16th century stained armorial glass, mediaeval roof bosses, bench ends and the ornamental rood screen and roof loft.
There were originally two chapels within the Church: the Hareston to the N.E. and the Spriddleston to the S.E. These were associated, respectively, with the Wood and Fortescue families who owned these Domesday Manors for very many generations. Spriddleston no longer exists, but Hareston has survived.
The hagioscope or squint at the N.E. is original, but the one to the S.E. is a modern insertion.  There is a late 15th century window in the modern vestry which originally came from the Fortescue manor of Spriddlestone.  North of the Church is a late mediaeval house, the former parsonage or Church House.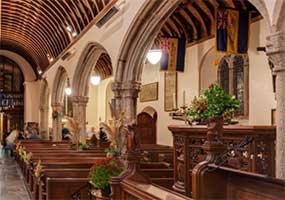 Most of the memorial tablets in the Church are to members of the Lane family who resided at Cofflett within the parish.  The Rev'd Richard Lane was vicar for 60 years and died in 1858.  He wrote a scholarly history of the district which is still preserved in parish records. 
There is an early 18th century memorial slab to the Wood family in the Fareston chapel, depicting the armorial bearings of this family.
Photos: Anthony J Smith (Gloucester) Ltd